Table and PivotTables Webinar
Date: Wednesday, July 26, 2023
Time: 10 AM – 11:30 AM EDT (9 AM CDT)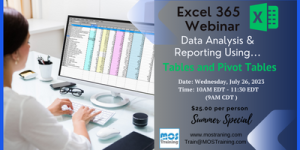 Learn how to create and use both Tables and PivotTables in this 90-minute online hands-on webinar.
The Excel PivotTables feature is used to create reports and perform data analysis. PivotTables make it easy to rearrange data, drill down within large datasets to analyze data and create reports to get the answers you need. Whereas the Tables feature makes managing and analyzing a group of related data easier. By turning a range of cells into an Excel table, you will have built-in features for running a variety of formulas with a single click, filter capabilities. Tables also provide data formatting consistency.
Tables and PivotTables complement each other. This 90-minute hands-on webinar will teach you how to create and use both of these powerful features.
Summer Special: $25.00 per person. Students will be provided a practice file for use during the Webinar. An electronic certificate of completion will be provided.